It's a warm summer morning and Maria Colby's mission is to band a young bald eagle, rescued after it tumbled from its nest a few weeks earlier.
The 12-week-old baby, which already has an 8-foot wingspan, is supposed to be released into the wild the next afternoon, in hopes it will reunite with its parents and nestmate. Metal ID bands attached to the eaglet's legs will help wildlife officials keep track of the federally protected bird.
The youngster is having none of it.
Colby runs Wings of the Dawn, a nonprofit wildlife center in Henniker. She has been a certified wildlife rehabilitator for 35 years.
It's hard work, and it's never-ending.
There are baby birds and animals to feed, cages and bowls to clean and sanitize, medicine to administer — and flying lessons to give.
The rescued eagle didn't have the skills to fly back to its nest 100 feet up in a pine tree after it fell, Colby said.
"He was just very awkward," she said. "He probably was tender from the fall."
So Colby has been teaching the eaglet to fly inside a 100-foot-long "flight cage" at her center, essentially by chasing it from one end of the enclosure to the other, again and again.
Thanks to a donation from the New Hampshire Wildlife Federation, the wood-frame flight cage is now equipped with an indoor pond complete with fish. It's likely the only one of its kind in the country, Colby said.
The eagle is flying now, but he hasn't quite learned how to land. Each flight ends with an awkward crash into the wall and a rather undignified slide to the ground.
On banding day, Colby is joined by Chris Martin, a raptor biologist from New Hampshire Audubon. They have worked together for decades.
But catching the young eagle proves a challenge even for these experienced hands. See video.(tncms-asset)17f5ee38-f138-11eb-a502-00163ec2aa77[1](/tncms-asset)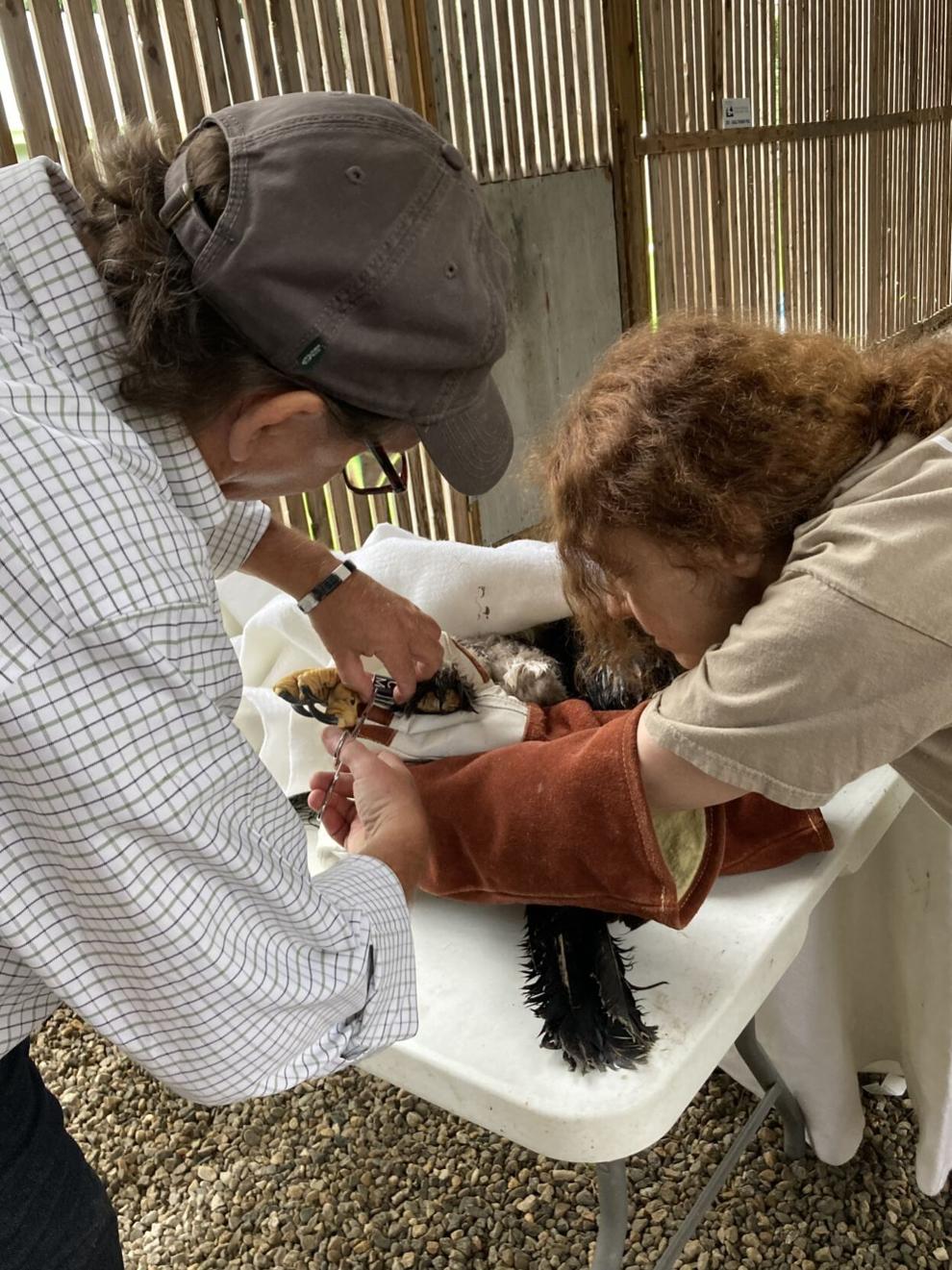 Colby's first swipe with a large net misses, and the eagle flies low to the edge of the pool. As Colby and Martin approach, the bird flops into the water, winging its way across to the far side before awkwardly climbing out on the other side.
That's where Martin manages to corner the bird and drape a blanket over it.
Just like that, the eagle stills, allowing the pair to carry it to a table, where Martin expertly attaches the metal bands while Colby grips its legs firmly so the fierce talons can't do any damage.
The bird never struggles, which is normal, Colby said.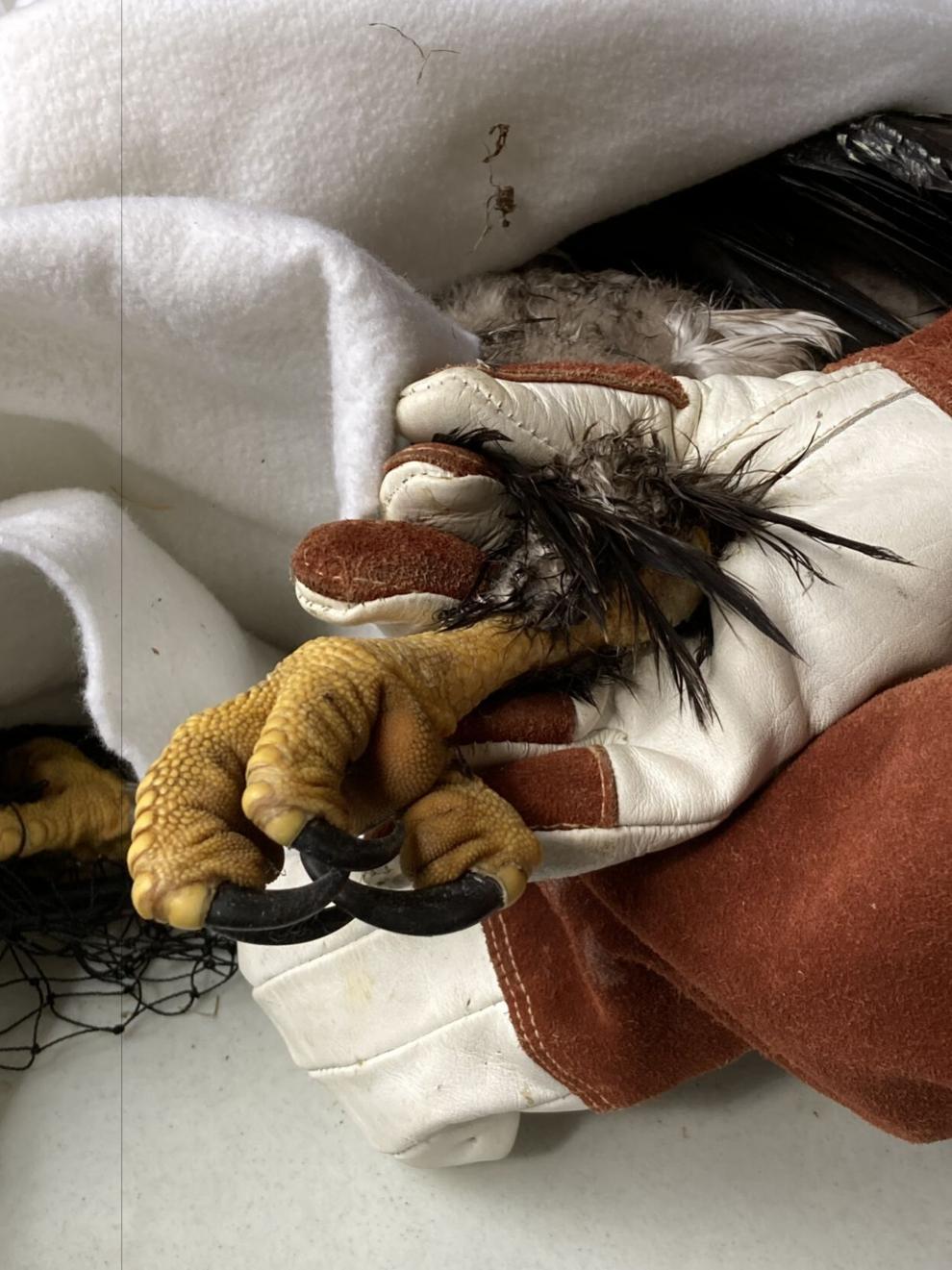 "As soon as you put anything over a wild animal, if you cover them, they'll stay put," she said. "They're in the dark so they think it's nighttime."
A never-ending need
Colby's phone rings at all hours, calls from well-meaning folks asking about young birds or animals that need to be "rescued." Often, her advice is to leave the creatures be; it's likely that the parent is nearby and will care for the youngster.
But when birds and animals have been injured or truly abandoned, Colby takes them in and nurses them back to health so they can be returned to the wild.
Pens and cages of all sizes fill about a quarter of her 8-acre property.
One holds three baby skunks; next door is a young porcupine. It's that time of year.
+21
Getting wildlife back into the wild
"Usually it's because somebody's trapped the mom or killed the mom and didn't know there were babies," Colby said.
She fills the skunks' bowl with apples, pears and watermelon mixed with some dog kibble. "They eat better than I do," she said, smiling.
Colby said she's grateful to several area veterinary practices that donate their time and services to help her care for injured creatures. The mammals get vaccinations against rabies, parvo and distemper before they are released back to the wild.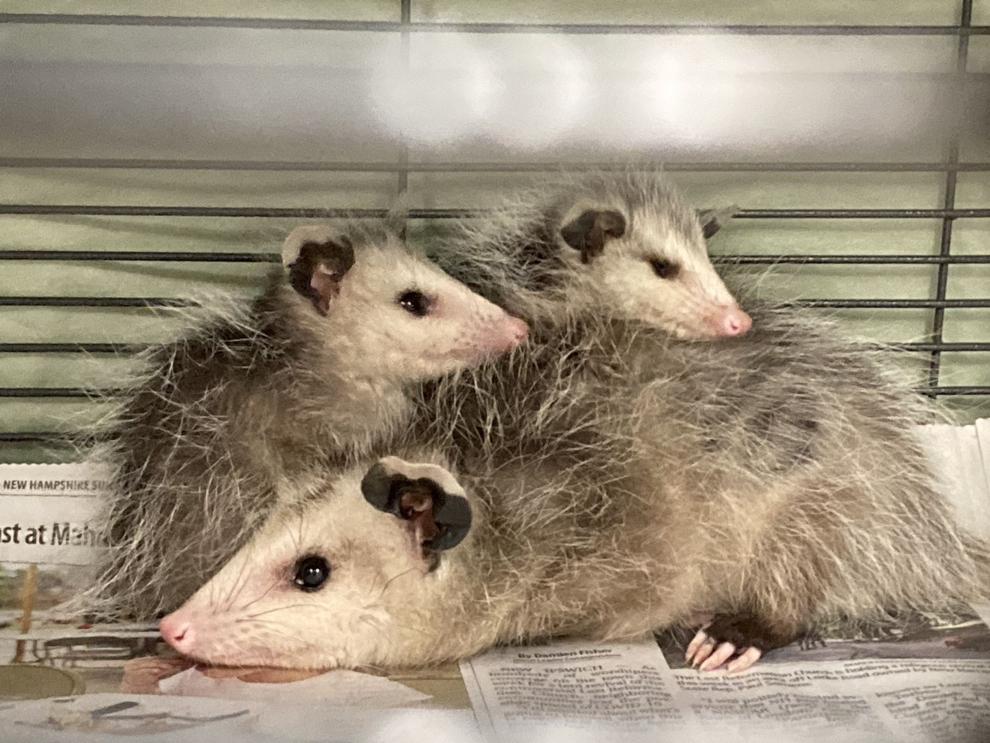 "We all work together to get this done," she said. "It's wonderful for the wildlife."
A young raccoon who has been at Wings of the Dawn since April chitters and presses endearingly against his enclosure as Colby nears. "He's really lonely," she said.
Soon the little raccoon will get his shots and be able to join two others in a nearby enclosure, where he'll be happier, Colby said.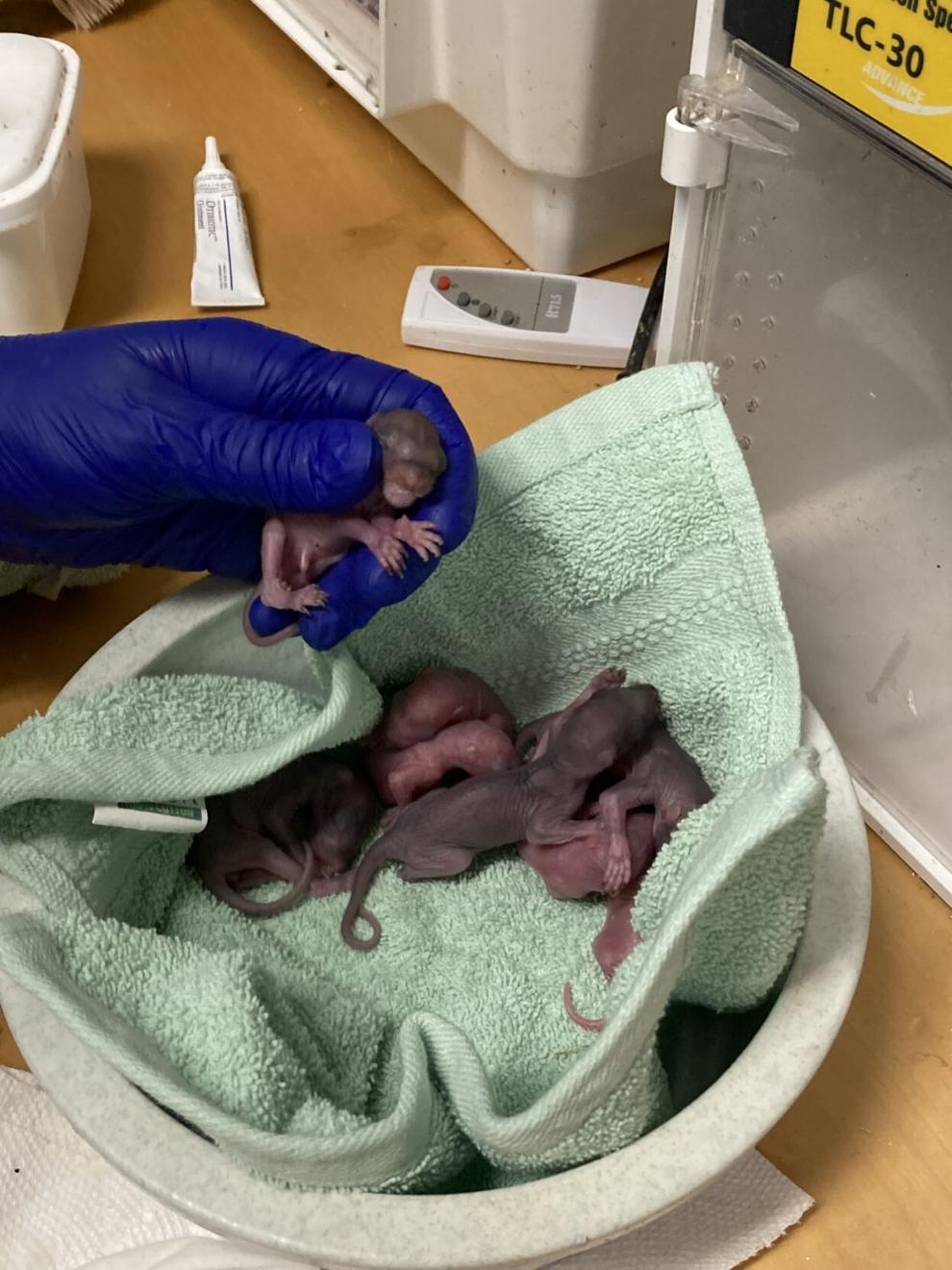 In a cage nearby, a red-tailed hawk glares at a visitor; it was hit by a car.
Vehicles are a leading cause of death and injury for wild birds of prey, which often stop to dine on roadkill and then get hit when they take off.
And don't get Colby started about house cats and songbirds.
"Half the birds I get is because people have cats," Colby said. "Leave your cats indoors."
One large wooden enclosure holds barred owls, another has juvenile broad-winged hawks. There's even a peahen strutting in one cage.
Inside the house are more cages, filled with songbirds, raptors, turtles, three young opossums, a big brown bat, even a garter snake that was hit by a lawnmower but survived under Colby's care.
She is treating a finch for conjunctivitis, evidence that a frightening new disease that has been killing songbirds in other regions has arrived in New Hampshire.
On her morning rounds, Colby encourages a feisty fledgling robin to take seeds from forceps, a key step toward independence. "C'mon, you can do it," she tells the bird.
Nearby, Wings volunteer Heather Knaub of New Boston is hand-feeding eight newborn squirrels, the tiny creatures hairless and helpless. She moves on to three baby rabbits, injured when a dog caught them.
Once fed, the babies are nestled in incubators.
Knaub is a registered nurse who worked in health-care risk management for many years.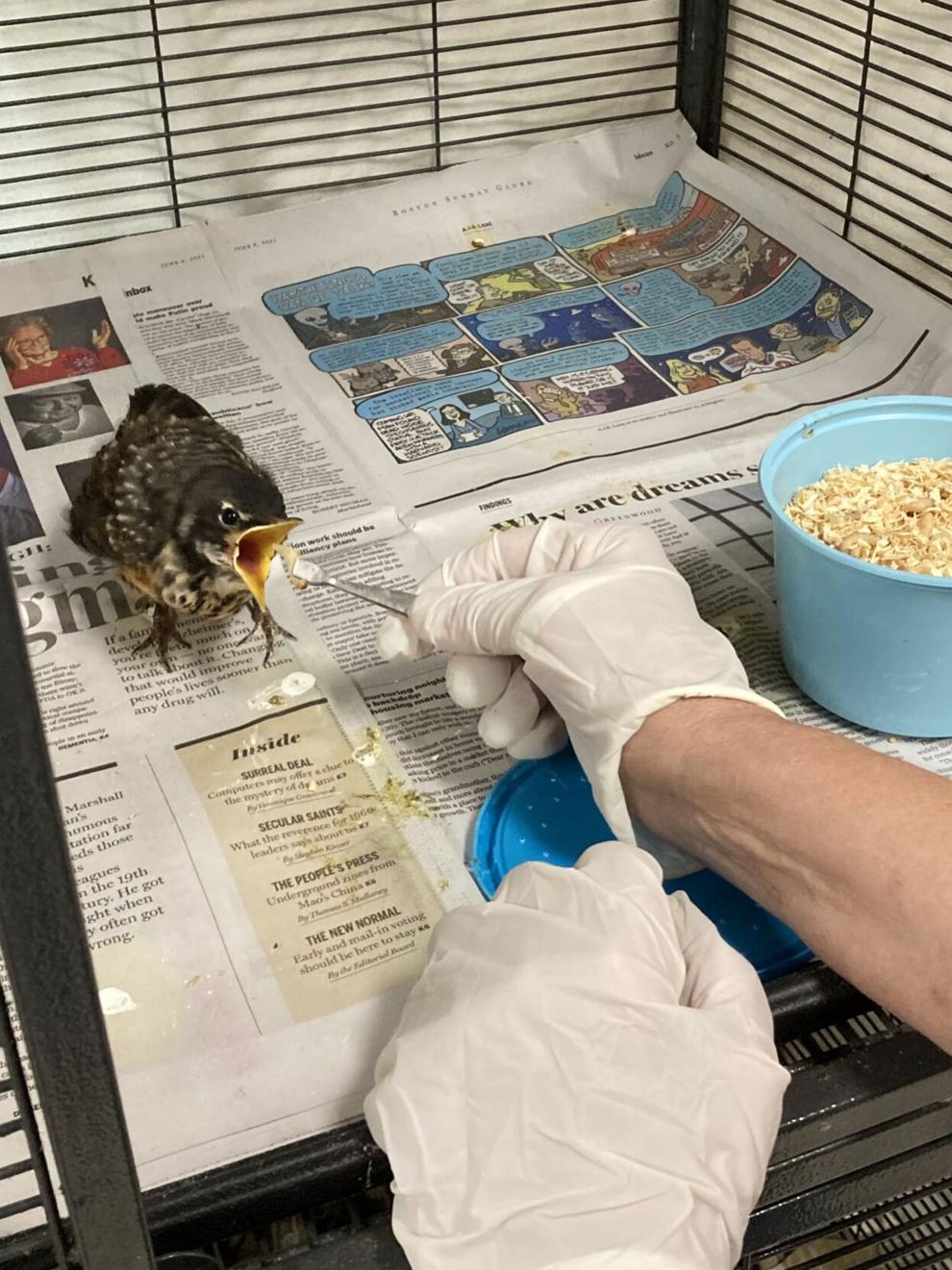 "This is the best retirement volunteer job ever," she said. "I knew I couldn't work in a dog or cat shelter; I would bring them all home.
Colby only accepts volunteers who are RNs or vet techs. She needs people with a knowledge base, not "bunny huggers," she said.
"It is all about the animals for me," she said. "It's all about the best possible care I can provide them."
Wings of the Dawn relies entirely on donations and grant funding. Colby's food bill for her rescued wildlife last year was $22,000.
Colby has taken just two vacations in all these years, once to Nepal and a few years ago to Ethiopia, where she visited the famous Born Free sanctuary.
The lame and the hurt
A steady stream of new creatures arrives at Wings daily.
The morning after a storm, a Bedford dad with his two kids in tow drops off an injured baby cardinal that blew out of its nest the night before. "We call her Stormy," he tells Colby.
A Sanbornton police officer calls. Someone has brought a hawk that's been hit by a car to the police station. Colby agrees to meet him halfway to pick up the injured bird.
A few minutes later, another man drives up and hands Colby a cardboard box. Inside is a baby robin that found its way inside the warehouse where the man works.
Colby smiles down at the creature. "I call these guys Einstein," she says. "They think they're so smart, jumping out of the nest a little bit early to face the world."
She puts the bird inside with the others, then heads out to retrieve the injured hawk.
Colby is a cancer survivor twice over. Her own medical travails have deepened her empathy for the suffering creatures people bring to her.
But sometimes even her best efforts can't save them.
Last week, Colby took in a snowy owl that was rescued by the Elaine Conners Center for Wildlife in Madison. Clearly something was terribly wrong; the bird should be in the Arctic tundra this time of year.
Just half the weight it should be, the owl was malnourished, dehydrated and very sick, Colby said.
Despite her gentle ministrations of food and medicine, the owl did not survive.
It's a hard fact of life in the world of wildlife rehabilitation.
And that makes the successes mean even more.
A return to the wild
On the day the newly banded eaglet will be released back into the wild, Colby and Audubon's Chris Martin meet at Ayers Lake Farm Campground in Barrington.
The campground's caretaker, Ron DeMars, noticed the young bird in trouble on the ground a few weeks earlier. He caught some sunfish in the lake and left them near the bird, but when it didn't eat, DeMars called the state Fish and Game Department, who referred him to Colby.
Because of his role in the bird's rescue, DeMars has been invited to be part of its release.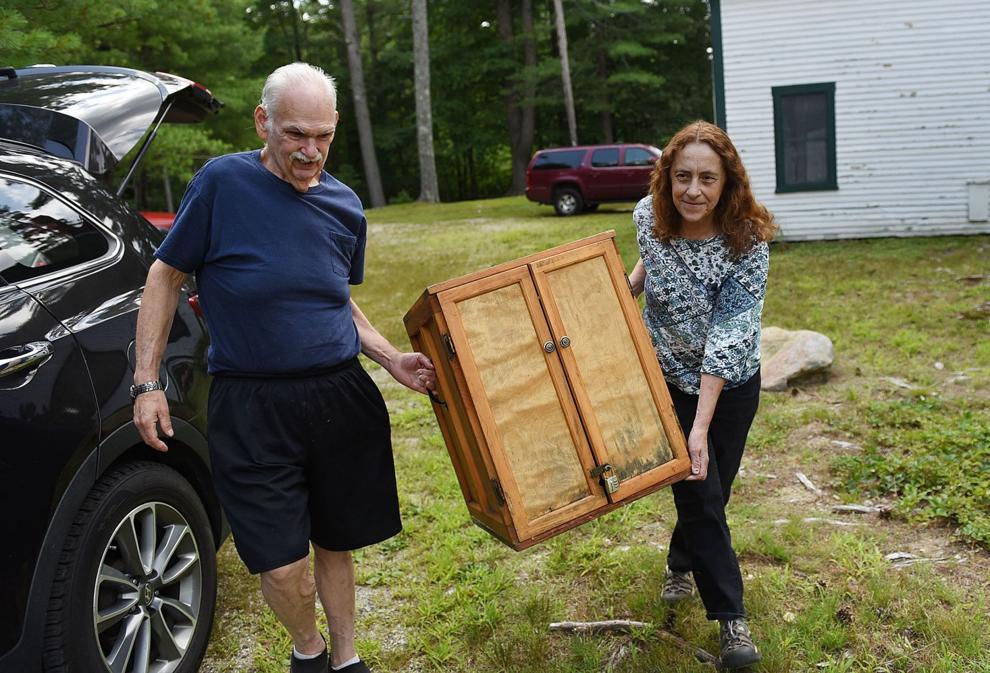 The rest of the eagle's family is close by.
The first sign is the alarm call of the loons in the lake, warning of the presence of eagles. Sure enough, an adult bird soars far overhead.
The rescued eagle's sibling perches confidently on the edge of the nest, high above in a pine tree, then launches gracefully and flies to a nearby tree.
At the appointed time, DeMars and Martin open the double doors of the wooden crate holding the youngster, and …
Martin grins broadly as he taps gently on the crate to rouse the eagle to leave. Then he peeks in and announces that the bird is facing backwards.
Martin gently tips the crate forward. Nothing doing.
Finally he picks up the crate and unceremoniously shakes it to dislodge the stubborn bird, and the eaglet flies at last, long and low across the yard to land on a branch not far from his nest. See video.(tncms-asset)55923f58-f138-11eb-91a9-00163ec2aa77[9](/tncms-asset)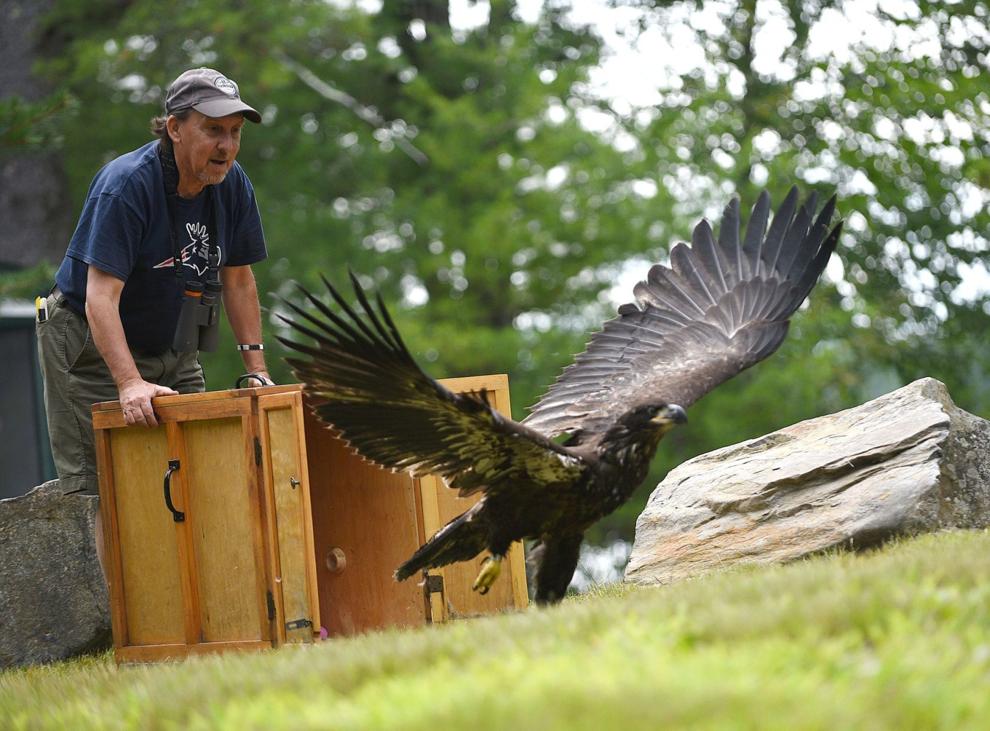 It's a perfect release, Martin says. "He looks so happy there on that branch," he says.
The adult birds will feed the rescued eaglet until it gains the confidence and skills it needs to fly up to the nest, Martin says. And there, "the parents will teach him everything about being an eagle."
Colby is beaming as she watches the bird fly. It's what all her hard work is for, moments like these, she says.
"It's fun to watch them actually in the nest instead of at my place," she says.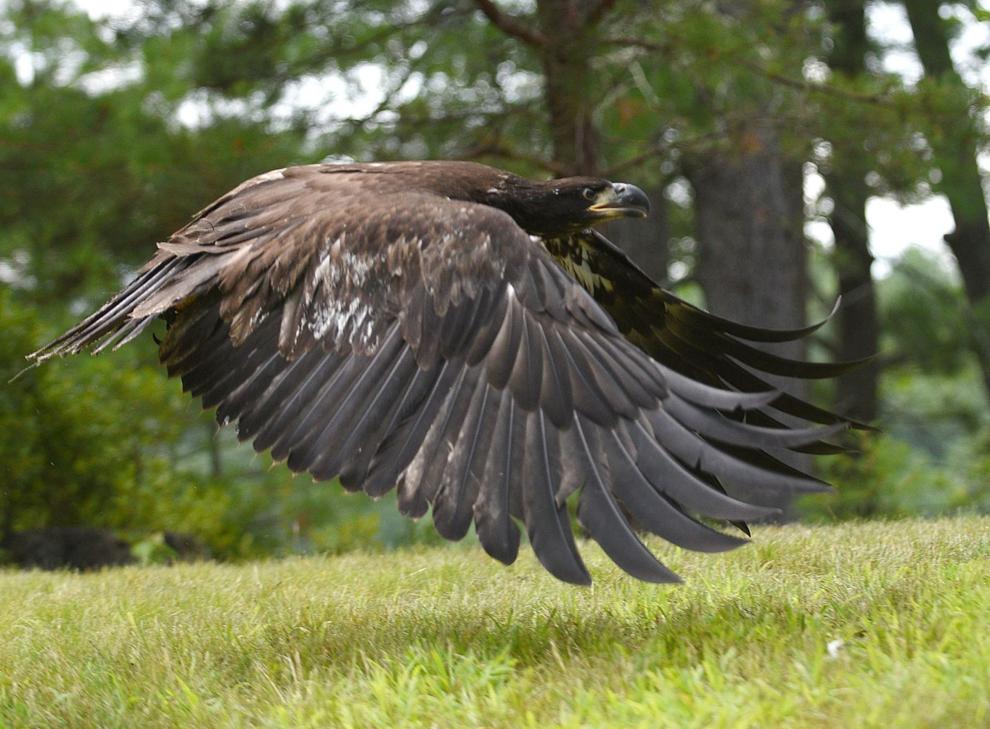 'A labor of love'
The work Colby does is "a labor of love," Martin said.
"She's in it for the benefit of the animals, and the feeling that gives her."
Colby has become the go-to expert when Audubon or Fish and Game encounters an injured bird of prey, he said.
"Her dedication is astounding and admirable, and we all appreciate that," he said.
It may be years before anyone spots the young eagle's tags and reports its whereabouts to wildlife officials, Martin said — "or it could come in tomorrow, dead on the road."
That's the reality of wildlife rehabilitation; not all these creatures will survive in nature despite the best efforts of people like Colby.
There's another reality, Martin said. "Maria's been at this for a long time, and she's not going to be at it forever," he said.
"We need to find someone who can be the next Maria and who can do the incredible work that she's done."
Colby's dream is to move her wildlife center to Concord someday, close to the highway, with lots of land.
But for now, she has baby animals to feed, raptors to rehabilitate, phone calls to answer.
"I only want the best for the wildlife, I really do," she said.
"So whatever it takes, I will do."