Toys are meant to teach and stimulate our little ones. Toys help babies and toddlers develop motor and cognitive skills. Bright colors and pleasant sounds grab our children's attention.
While toys can help our babies and toddlers develop critical skills, toy safety isn't always at the top of the list for some toy makers. Dangerous chemicals and toxic paint can be harmful to children, especially teething babies who put toys in their mouths.
Organic and non-toxic toys can keep your little ones safe. You limit exposure to dangerous chemicals and compounds by choosing toys made of high-quality wood, natural rubber, and water- or plant-based paints and dyes.
How do you know if toys are non-toxic or organic?
While non-toxic and organic sound like similar terms, there are some differences. Non toxic baby toys avoid the use of chemicals or processes which may result in a toxic human response, such as endocrine damage, hormone disruptions, cancer, or other illnesses.
To keep costs low, toy manufacturers may use dangerous chemicals, such as flame retardants, cadmium, lead, heavy metals, and phthalates, to make toys. Since babies and children are growing and prone to putting toys in their mouths, they may be more vulnerable to dangerous toxins.
On the other hand, the ingredients in organic toys have been grown and processed under strict codes. Organic toys do not use pesticides, fertilizers, or genetically modified organisms. The brand or ingredients are certified by an approved organization to be considered organic. Common organic ingredients include cotton, yarn, hemp, wool, and natural rubber.
Worst stuff in toys
Toys should be fun and keep your child's attention. But not every toy is made with safety in mind. Some of the worst stuff in toys include:
Small parts: Avoid baby toys with small parts at all costs. Marbles, beads, or other small pieces become choking hazards if swallowed.
Low-quality toys: The quality of a toy is based on how well it is made, not what it costs. Before you buy toys for your baby, carefully inspect how they are made. Toys made of cheap plastics, low-quality wood, or glued-on parts can easily dent, rip, or break.
Chemicals: Parents should avoid giving children toys when dangerous chemicals are used to make them. This is especially true for babies who have a tendency to put toys in their mouths. Lead-based paint, flame retardants, and other heavy metals can expose young children to serious illnesses.
What materials should I look for?
When looking for organic or non toxic baby toys, you should look for such materials as;
Wood: One of the most common materials used in non-toxic toys is wood. The safest toys use hardwoods, like walnut, ash, and maple. Hardwood is eco-friendly and durable. And since it is less likely to splinter or weaken from water damage, hardwood is a good fit for baby toys.
Softwoods, like fir and cedar, are sustainable wood options. However, one of the biggest drawbacks of softwood is that it can be easily damaged by water. This makes softwood weaker and more prone to splinter. Babies may be cut on splintered wood. Or, small pieces which fall off could be swallowed.
Organic cotton: Organic cotton is grown and produced with less environmental impact. Organic cotton doesn't use harmful pesticides or toxic fertilizers to grow and uses methods to keep the soil fertile and replenished. Organic cotton is typically used in stuffed toys.
Rubber: This material can be found in teethers and toys that need elasticity. Natural rubber comes from the latex of rubber trees and plants. Since it comes from trees, natural rubber is biodegradable and eco-friendly.
Safe plastic: Plastic is commonly used to make baby toys because it is cheap and easy to get. But the plastic used may contain toxic chemicals that are harmful to your child. Plus, cheap plastic toys can be easily broken and could pose a choking risk to your baby.
Safe plastic toys stay away from harmful chemicals and processes. Stick with toys made with plastic that is PVC-free and BPA-free to keep your baby safe.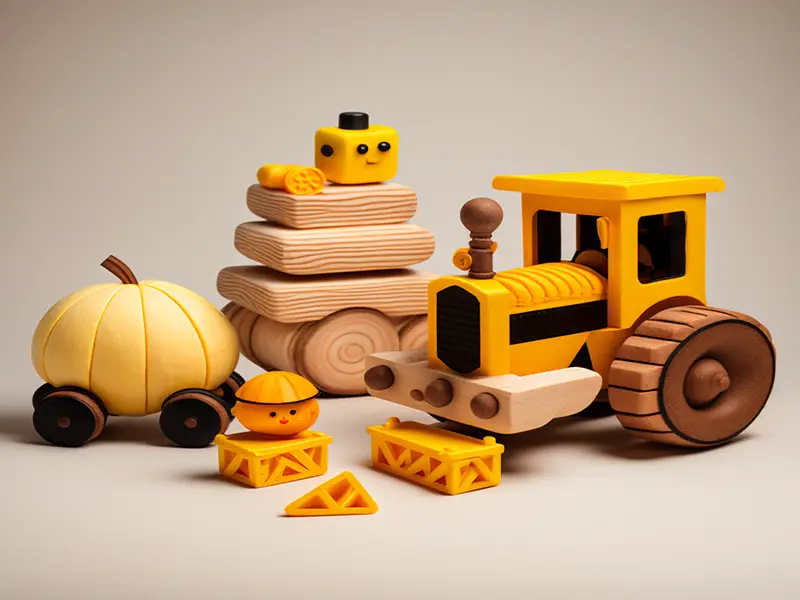 What to look for in organic toys
Certifications
For toys to be considered organic, they must be certified by a recognized third party. For example, the Global Organic Textile Standards, or GOTS, sets the standard for the production of organic cotton.
The organic dye that is used must be tested and registered with a third party known as the Ecological and Toxicological Association of Dyes and Organic Pigments Manufacturers (ETAD).
Some toy makers may use only sustainably harvested wood certified by the Forest Stewardship Council (FSC).
Few synthetic materials
Avoid toys that use materials treated with chemicals. For example, plush toys may be stuffed with petroleum-based polyester. Or, the cotton used for stuffed animals may be treated with pesticides or fertilizers while grown.
Some toy manufacturers continue to use flame retardants in children's toys. These harmful chemicals could lead to health issues, such as thyroid problems, endocrine issues, and cancer. Dangerous chemicals found in flame retardants could impact your child's development.
If you want organic and non-toxic baby toys, stick with natural materials, such as solid wood, organic cotton, hemp, or natural rubber. The Pure Natural teether by caaocho is made of all-natural rubber and is free of harsh chemicals.
Safe paints and dyes
Toys are often covered with colorful paints and dyes. Since some paints or dyes contain harmful substances, such as cadmium or lead, your baby's health could be at risk.
Babies experience the world by what they can touch. So, choosing toys with non toxic paints and dyes is critical. Seek out plastic or wooden toys that are well-made and use water- or plant-based dyes.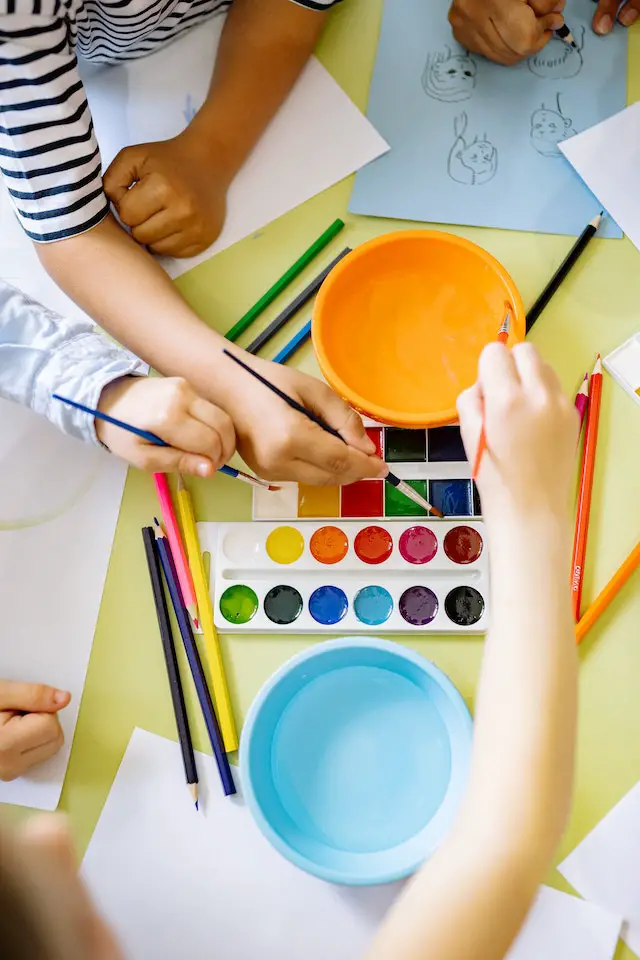 Best non-toxic toys brands
Organic and non-toxic toys continue to gain popularity with parents. There are many companies who specialize in non-toxic and organic toys, such as;
Plan Toys
The mission of Plan Toys is to cultivate a sustainable world. The company was established in 1981 and continues to create toys following its three pillars of business, including sustainable materials, eco-friendly manufacturing, and educational campaigns.
Plan Toys Wooden Stacking Rings
Sustainably Made from Rubberwood Featuring Organic-Pigment Coloring and Water-Based Dyes with Collapsible Central Rod for Safety
We earn a commission if you make a purchase, at no additional cost to you.
Plan Toys features an array of non toxic wooden toys. Many of these wonderful wooden toys are made from chemical-free rubberwood and use organic pigment and water-based dyes for color.
Tender leaf toys
Tender leaf toys are non toxic wooden toys with a quirky flair. These safe toys come from sustainably sourced wood from rubber trees which no longer produce latex. And for every reclaimed tree used, Tender Leaf plants a new one. The Rainbow Tunnel is a colorful stacking toy that uses non-toxic water-based paint.
Bears for Humanity
Bears for Humanity features an array of huggable plush toys, including bears, elephants, pigs, and cows. These soft toys are hand-sewn with embroidered eyes and feature GOTS Certified organic cotton and eco-friendly dye.
When you make a purchase on Bears for Humanity, the company donates a teddy bear to a child in need.
HABA
HABA Toys is a family-owned business that sells developmental and educational toys. This German company keeps its focus on eco-friendly manufacturing and sustainable materials when possible.
HABA wood toys use timber from sustainable forests. These high quality wooden toys use non toxic paints or water-based stains for color. The company also has a line of sand toys that are BPA free.
Green Toys
Green Toys are made from 100% recycled materials. Most Green Toys are made in the USA from recycled milk jugs and are PVC and BPA free. From vehicles to bath toys, Green Toys are dishwasher-safe and easy to keep clean.
Hape Toys
This eco-friendly toy company makes safe and durable wooden toys. These non toxic baby toys are made from sustainable wood and colored with water-based paint. The stackable wooden block set by Hape Toys is made from durable maple wood and sports colorful child-safe paint.
What toys should a newborn have?
Age-appropriate toys stimulate the senses in newborns and infants. Toys' colors, sounds, and touch can help with your child's cognitive development and motor skills. Choosing safe and durable toys is critical because babies learn by touch and often place objects in their mouths.
Toys that you may look at for your newborn or infant include:
Teethers
Teethers provide a little relief for a teething baby. Since teethers routinely go in your baby's mouth, you need to pick one that isn't made with harsh chemicals.
If you want to stick with a traditional wood teether, the PlanToys Natural Keys Rattle is made of natural rubber and is chemical-free. Or, choose Sophie the Giraffe by Vulli. This non-toxic teether is made of natural rubber from the Hevea tree and is latex, lead, and BPA free.
Rattles
Babies enjoy the sights and sounds of rattles. Not only do rattles stimulate the senses, but they can help your baby develop grasping skills. Since rattles often double as teethers, you want to choose a rattle that is durable and safe for your baby.
The Homi Baby Wooden Rattle is made of natural maple and birch hardwood and sealed with mix of organic coconut oil and beeswax. Homi rattles are made in the USA.
Manhattan Toys' Winkel Rattle & Sensory Teether is a brightly colored swirl of BPA free tubes that babies can clutch.
Easy-to-grasp toys
Rings, stackers, and soft toys that babies can grasp and hold help develop motor skills. Green Toys has a line of non toxic baby toys made from 100% recycled materials. Their stackable cups and ring of keys are BPA free and dishwasher-safe.
The MOONTOY collection of baby shakers, rattles, and musical toys are made of food-grade silicone and are BPA free.
Uncle Goose blocks are handcrafted from sustainable Michigan basswood. These durable wooden blocks use safe-to-touch ink for printed designs. Uncle Goose wood blocks and toys are 100% made in the USA and good for children 2+ years old.
Bath toys
Bath toys are a must-have with babies. Yet, with so many bath toys made of plastic, parents need to be extra cautious when choosing the right toys for the tub.
The warm water and moist environment can further expose your baby to dangerous toxins commonly found in plastic toys, such as phthalates, lead, and polyvinyl chloride (PVC). Plus, holes in plastic toys, like what you'll find in a rubber ducky, can lead to mold after only a few uses.
Wooden bath toys finished with natural oils is a good way to stay away from harsh chemicals. Just be sure to dry wooden toys after each use in the tub to prevent mold.
It's a good idea to avoid painted wooden toys in the tub unless you know that the paints are non toxic. Plan Toys offers wooden sailboats, bowl sets, and animal bath toys that are colored with water-based dyes and organic pigments.
Natural rubber is a good choice if you are looking for a plastic-free toy. Stainless steel keys, measuring cups, and spoons are free from chemicals and dishwasher safe.
Toddlers may enjoy Honey Sticks bath crayons. Made in New Zealand from locally-sourced beeswax, these water-soluble crayons are free of chemicals and use non-toxic pigment. Plus, the markings from these water-soluble crayons are easy to wipe off the sides of bathtubs.
Playmats and activity gyms
An activity gym can help your baby develop motor skills and stimulate hand-eye coordination. Playmats can be used during tummy time or give your baby a cushioned spot to lay while playing with their activity gym.
The Pillobebe playmat is lightweight and easy to transport. This soft playmat is made from 100% GOTS-certified organic cotton. While the mat isn't stain resistant, it is machine washable.
Or, choose the more affordable Bammax Play Mat made of BPA-free XPE foam material that is safe, non-toxic, and soft. As an added plus, the Bammax mat is waterproof and easy to keep clean.
Finn + Emma has a wooden baby play gym made of safe and sustainable materials. The gym features a birch wood frame, two wooden hanging teethers of unfinished wood, and two hand-knit rattles of organic cotton and wool.
Stroller toys and mobiles
Toys with bright or contrasting colors placed above their crib or along the top of a stroller can help with visual stimulation. The Golener set of wooden hanging animals can be hung from a baby's stroller, bouncer, or crib. The smooth shapes are handmade from eco-friendly beech wood.
What toys are children safe?
Depending on your child's age, you can find plenty of safe toys. You may stick with more traditional toys, such as rattles, soft toys, and teethers for babies and infants. Toddlers may enjoy wooden puzzles, blocks, plastic cars or figures, beach toys, stuffed animals, and dolls.
When picking toys for your child, look closely at how the toy is made. Toys with small parts may become choking hazards. Stuffed animals with glued-on eyes, plastic cars with loose wheels, or poorly-made wooden toys that splinter could leave small parts that a child may swallow.
You can help prevent choking hazards by picking stuffed animals or dolls with embroidered features. The Apple Park Baby Doll collection features organic fabric, eco-friendly dyes, and embroidered faces.
Well-made wooden toys made from beech or other hardwoods are less likely to splinter or fall apart. The Orcamor Organic Wooden Stacking Toy uses beech wood, non-toxic varnish, and water-based paint.
Are Fisher Price toys non-toxic?
You may find some materials used in Fisher Price toys are non toxic. Many infant play mats and toys have BPA-free teethers, and you may find some of the duffle bags used to store blocks are PVC-free. However, many plastic toys may not be eco-friendly if treated with chemicals or use lead to make them more durable. So, it's a good idea to read through the materials before you buy.
Is Melissa and Doug non-toxic?
The Melissa and Doug toys brand features high-quality toys designed for learning and pretending. Many of the materials used in Melissa and Doug's toys are non-toxic. Durable hardwood is often used for such toys as wooden blocks, puzzles, and trains.
The company also seeks to reduce waste during production and use recycled paper for shipping. But, since not every material used in Melissa and Doug toys is non-toxic, it's a good idea to check the labels before you buy.